The results are in
and this year's WRiTE Club champion is
Tex Thompson a.k.a. Muleshoe.
Many congratulations to Tex for giving us such inspiring writing and to
Jane Lebak (Philangelus)
, our honored runner-up for her well-crafted entries as well. An extra special thanks, of course, goes to
Don Hammons
and his wife, Kim, for their great work in putting the competition together...a brilliant job running a brilliant competition that lit a brilliant fire under many a sluggish butt.
This year, my super-cool wife,
Faith,
and I were lucky to be on the other side of the judges' table, which gave us a completely different view of the competition. It was a tremendous honor and an incredibly helpful one, too. It is always an interesting thing to see a large number of writing samples all at once.
If I had to pinpoint the most dramatic thing I learned, it was this:
Decent writing doesn't cut it.
Vermeer, Girl with a Pearl Earring (Great, not decent.)
Now, this idea may seem like nothing new.... I'm sure I've heard it at least once at every conference I've been to, before tidily packing it away with all the other info I heard into neat little boxes I meant to open at a later date. After judging a large number of writing entries, it's become pretty clear that the entries that really stood out (ahem...Muleshoe's...) seemed to be of a different level completely. Now it wasn't that the other entries were bad--far from it. It was simply that the overwhelming majority of entries were
decent
.
And there's a problem with decent writing...especially when it is sitting snug in a slush pile. It's the same problem that occurs when you go wandering through the Metropolitan Museum of Art or any other large art museum. At first, your eye is grabbed by every well-executed piece of art, but as more and more good works are noticed, you end up with a sort of art fatigue; the paintings all blend into one and it takes a real Masterpiece to break the cycle. As a result, a room full of "decent" beautiful works can go completely unnoticed.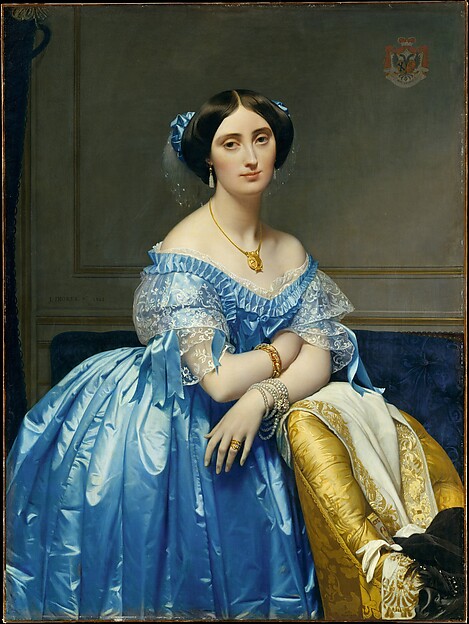 Ingres: Portrait of the Princesse de Broglie ("Go ahead, try and overlook me.")
And I don't want my writing to go unnoticed.
Besides obvious good craftsmanship, the thing that makes me stop and stare at a gorgeous painting, or a great writing excerpt like Muleshoe's, is confidence. There's a combination of boldness and subtlety in the work that makes you forget, for a brief moment, that you're taking in the invention of someone else's mind. It feels real. It literally captivates you, and won't be dismissed or overlooked.
And who doesn't want to be captivated?
Bouguereau: Two Gypies. (No caption needed, actually.)
I realize this is over-simplified... I'll be trying, over the next few weeks, to devote a series of blog posts to this general topic; to examining in more detail what makes me see certain pieces of literary art as confident, captivating masterpieces.